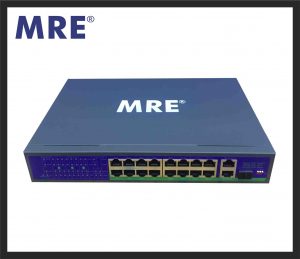 What is a POE switch?
A POE switch is a device that allows several other devices on the same network to communicate. The meaning of POE is Power Over Ethernet which means you can power many devices using network cables. The basic difference between a regular switch and a POE switch is that a regular switch only supplies power or current whereas the POE switch supplies data to the network devices.
POE switches are in more trend these days because more and more companies are opting for IoT (Internet over Things). Since the applications used in industries use more power than before, this is the best option that can be provided here as they provide higher power and a reduced number of cables. The more ports provided in a switch, the more ethernet cables can a network support. A POE switch can connect up to 24 ports all in a single frame. It is mainly used in IP (internet protocol) cameras, VoIP phones, and wireless networks.
What are the benefits of the POE switch?
• High-end Speed – It provides a high-end speed network to one power device through a single port. A regular switch cannot provide high-end speed.
• Cost-effective – Since POE switches provide a high-end network, the number of cables needed reduces which effectively reduces the costing part. It also saves the cost of electrical installation, power cables, and power outlets.
• Intelligent Technology – POE switches have intelligent sensors that detect the power consumption of every powered device. This helps in minimizing the power wastage and maximizing the supply of required power usage.
• Futuristic – These switches are made keeping in mind the growth of IoT-based industries. Including more use of POE switch gives the industries an opportunity of adding more and more devices without the need to change the switch.

MRE
is a brand that has established its name when it comes to POE switches and power adapters. Since we are the manufacturing company, no compromise is been made on the quality and efficiency of the products. MRE is known for its BIS-approved products, forty-five years of trust, and customer satisfaction.

The other products manufactured by MRE are power adapters, POE injectors, POE adapters, up to 16 channel CCTV power supply, kids' toys adapters, tufting gun adapter, battery backups, and many more applications.
Need technical help?
Our expert team of engineers are always there to solve all your queries. We are available via call and chat. The products at MRE are manufactured in-house, so customizing products according to your needs is possible here.
Read our other blogs –