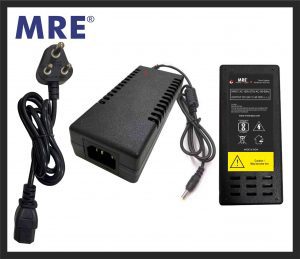 What is SMPS?
SMPS plays a major role in mostly all electronic equipment operations like power supplies, power adapters, CCTV power supplies, battery backups, fan power supplies, etc. SMPS can also be converted from AC voltage to DC voltage.
For switching the supply voltage of a particular switching frequency, to control the output voltage a semiconductor switch type MOSFET is used. The output voltage is automatically changed when the switching frequency is changed.
SMPS 24volt is used as a control voltage, to increase reliability. The reason behind this being, power supply operates on a limited circuit for protection against short circuits or any such problems. Whenever there is a short circuit, the power supply usually shuts down. Thus eliminating the need for fuses or replacement time. When the issue of the short circuit is resolved, the SMPS 24volt starts functioning normally reducing the downtime.
The best part of using 24volt power supply is that it does not need the use of safety equipment. Even if a person is exposed to an accident caused by the wiring, there are very few chances of personnel injury. Unlike the other AC SMPS devices where a lot of security gears are required, this SMPS 24volt costs less maintenance and more security.
Where is 24 Volt power supply used? 
24 Volt power supply 
adapters are those whose input range is switchable between 90v -125v.
24v power supply
adapter is popularly used in audio communications, lightning, 
medical applications, LCD TVs, amplifiers, printers, battery backups of both internal and external model, desktops, RO, fan power supply, and industrial products.
What MRE offers –
MRE provides a wide range of SMPS 24volt adapters. The various products MRE manufactures include power adapters, CCTV power supplies, Din Rail CCTV power supplies, battery backups, and more. We provide 24v AC and DC power supply adapters with an input range of 100V – 275V.
The products made at MRE are of the best industrial standards and of high quality. 24Volt power supply adapters are made focusing on reliability, durability, and high performance. Since the SMPS 24-volt adapter is used for so many purposes, its popularity has raised enormously. 
MRE is a pioneering power supplies manufacturing unit, which is a brand known for its product quality and loyal customer base. A list of devices where 24volt SMPS is used is given below.
             Interested in reading our other blogs? 
                        Read other blogs by clicking on the buttons below.
Reviews (3)
Rahul uchil
– 31 May 2023
Very professional delivered the product within the given time.
Brijesh Pandey
– 31 May 2023
Innovative & most reliable partner.
sharan patel
– 31 May 2023
Good Quality Products