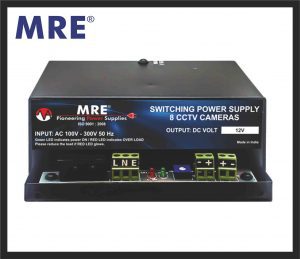 MRE provides a wide range of products in adapters, power supplies, battery backups, and many more. The 8 channel CCTV power supply manufactured by MRE is durable, lightweight, and easy to use.
With a wide AC input range of 100-300 VAC, this 8 channel CCTV power supply supports unfavorable adverse power conditions. It also gives a battery backup solution in case of a power outage. With high proficiency and low energy consumption, this 8 channel CCTV power supply becomes one of the leading products provided by MRE.
8 Channel CCTV power supply designed by MRE has inbuilt Over Temperature Protection, Over-current, and Overload protection. Designed with high-frequency switching technology, it makes this camera power supply highly reliable, cost-effective, and compact in size and light in weight.
Read our other blogs –